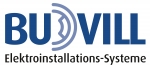 Budvill GmbH
Boschetsrieder Straße 132
81379 München
| | |
| --- | --- |
| | Germany |
Contact Persons
Additional Web Links
Subcontracting: Extruding, Injection moulding
Subcontracting in Detail:
Extrusion of
- Polyvinyl Chloride (PVC)
- Polyethylene (PE)

Injection of
- Polypropylene (PP)
- Polystyrene (PS)
- Polyethylene (PE)
Pictures of the company and its products (click on the thumbnail to open full size)
Pic 1

Bild 1: Budvill Logo

Company Profile:

Budvill is a Hungarian manufacturer of high quality plastic materials. Equipped with two facilities (Extrusion and Injection) in Budapest and logistics and sales strategy clearly aimed for the European market, we are set to efficiently and quickly provide for our customers´ demands. Use our capacities for your custom manufacturing. Contact us and tell us your specific requirements!