HP-T Höglmeier Polymer-Tech GmbH & Co. KG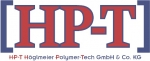 Ziegelweg 15
91792 Ellingen
| | |
| --- | --- |
| | Germany |
Contact Persons
•

Geschäftsführer

Mr. Harald Höglmeier (info@hp-t.de)

Tel.: +49 (0) 9147/94 10-0
Fax: +49 (0) 9147/94 10-94

•

Vertrieb

Mr. Bernd Weichselbaum (B.Weichselbaum@hp-t.de)

Tel.: +49 (0) 9147/94 10-62
Fax: +49 (0) 9147/94 10-94

Business Categories
Subcontracting: Filling, Compounding, Colouring, Metall separation, Dust exstraction, Extruding, Mixing, Reprocessing, Shredding, Sorting, Drying, Granulation, Packaging
Subcontracting in Detail (no description in english available):
Bitte senden Sie uns Ihre spezifische Anfrage zur Materialaufbereitung und Entwicklung.
Pictures of the company and its products
Company Profile
(no englisch profile available)
Im Jahr 1990 gründete das Entsorgungsunternehmen Höglmeier das erste Kunststoffrecyclingzentrum Süddeutschlands in Raitenbuch, Bayern. Hieraus ging 2001 das mittelständische Familienunternehmen HP-T Höglmeier Polymer-Tech GmbH & Co. KG hervor, welches seitdem eigenständig agiert.
Wir beschäftigen uns ausschließlich mit der Vermahlung, Regranulierung und Compoundierung von technischen Kunststoffen, erarbeiten für Sie individuelle Recycling–Konzepte und entwickeln gemeinsam mit Ihnen eigene Polymerwerkstoffe.

Welche Lösung im Kunststoff Sie auch suchen, sprechen Sie mit unseren Experten – wir sind für Sie da!
Certifications
Erstzertifizierung nach ISO 9001:2000 am 27. Juli 2004
Neuzertifizierung nach ISO 9001-2015 am 01. August 2018
(Re-)Zertifizierung nach ISO 9001-2015
gültig bis 31.07.2024
More information about "HP-T Höglmeier Polymer-Tech GmbH & Co. KG" on plasticker