Technical Book

09.07.2014 - 06:06
AMI: New study about global market for PP compounds
An authoritative report from industry consultants, AMI Consulting, published in June 2014, quantifies and analyses the global market the polypropylene compounds. The study segments the market into NAFTA, Latin America, Europe, Asia and Middle East/Africa, by product family and by application. Within...


mehr
07.11.2011 - 06:08
AMI: Uncertain outlook for european plastics industry
According to AMI´s recently published European Plastics Industry Report 2011, 2010 saw a recovery in demand for most thermoplastics, after two of the worst years the industry has seen since the oil shocks of the 1970s. After a drop in demand of over 15% over the period of the recession, volume demand...


mehr
28.10.2011 - 06:00
AMI: New report on wood plastic compounds
Growth in the European wood plastic composites (WPC) market has been averaging 25% a year despite the recent tough economic conditions and a sharp decline in construction output. Demand in Europe is no longer driven by imports from the US and Asia, but by strong established European producers. The market...


mehr
24.11.2010 - 14:12
Netzsch-Gerätebau: Thermal Properties of Polymer Materials at a Glance
In the manufacturing and processing of thermoplastics, elastomers, rubbers and thermosetting materials, knowledge of their thermal properties is very important. Various thermal analysis methods are employed by manufacturers, processors and users in areas such as materials development, incoming goods...


mehr

15.10.2010
ChemTec Publishing: Handbook of UV Degradation and Stabilization
This book, the first monograph fully devoted to UV degradation and stabilization ever published in English language, has 12 chapters, each discussing different aspect of UV related phenomena. In the introduction the existing literature has been reviewed to find out how plants, animals and humans protect...


mehr
12.04.2010
Ceresana Research: New Market Study Expandable Polystyrene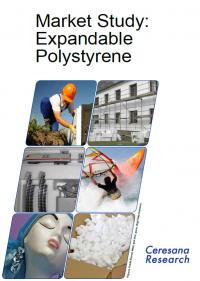 The newest study from Ceresana Research covers the plastic, expanded polystyrene (EPS). Due to its technical characteristics, such as its light weight, rigidity and excellent formability, this material can be found in a wide range of applications: insulation against heat, sound, and cold, as well as...


mehr
01.04.2010
AMI: New report details trends in Asian market
A recent report from industry consultants, AMI Consulting points to Asia as the fastest growing and most dynamic market for thermoplastic masterbatch products in the world. Despite the impact of the global recession demand for masterbatch products has continued to power ahead in the region and is forecast...


mehr
06.10.2009
PETnology: The second PET Yearbook "connecting comPETence 2009" published
Just like the first Yearbook, which had found wide acceptance in the market at the end of 2008, the second edition from PETnology/tecPET GmbH (www.petnology.de) contains a lot of interesting information on PET. It presents the most topical developments and gives moods and views gathered during numerous...


mehr
14.05.2009
New Book: TPE PRIMER - Fundamentals • Injection Moulding
Thermoplastic elastomers as a class of materials have been growing at high rates over the period of past several years. Because of their unique property profi le they have not only replaced conventional rubber in many areas but also found a host of totally new applications. There are several books...


mehr
28.04.2009
Crucial New Book Explores use of PVC in Medical Products

iSmithers Rapra Publishing has announced the release of Update on Medical Plasticised PVC. Poly(vinyl chloride) (PVC) is the most versatile of all the commodity polymers. It can satisfy a wide range of product function, safety, performance, and cost criteria. It is therefore ideal for use in medical...


mehr
16.04.2009
More than 100 bioplastics in updated market report
The German Institute for Recycling publishes a largely extended new release of a technical market report that now comprises more than 100 globally available biopolymers. The brand-new market report, available from mid April 2009, provides precise information on technical parameters and processing...


mehr
08.08.2008
New Book: High Performance Polymers
This new book "High Performance Polymers" presents the state-of-the-art polymerization, fabrication and application methods of high performance industrial polymers as well as providing fundamental information for practical engineers working in industries that develop advanced applications - industries...


mehr
18.07.2008
ISO 15270 will help expand plastics recovery and recycling worldwide
A new ISO International Standard (www.iso.org) will assist the emerging worldwide market for plastic recovery and recycling. Because plastic products are traded internationally and many of the plastic resin manufacturing companies and industrial users are multinational companies, the arrival of ISO...


mehr
29.05.2008
New Book: 'Energy Management in Plastics Processing'
Practical energy-saving advice for all plastics processors Plastics Information Direct, the technical publishing division of Applied Market Information Ltd. (www.amiplastics.com), has published a brand new book which could help all plastics processors to manage and reduce their energy consumption....


mehr
Please find more information in German.
You wish to have news about your company and your products published here?
Please send your information and press reports to info@plasticker.de or give us a call!
Premium-Partner
Trade representatives & agencies
If you seek trade representatives or agencies at home and abroad, or would like yourself to offer trade representation, then you will find the optimum area for it here.
4 offers from companies
2 offers from trade representatives

Insert own entries free of charge